I always wanted to build an Arcade machine, but the idea of storing the cabinet was a bit daunting. So I challenged myself to build an Arcade Controller instead which can plug into any USB.
Parts:
Joystick, Buttons, USB controller $30
Wooden Craft box 290mm x 210mm x 90mm $20
Wood screws 6mm $4.50
30mm Wood Drill bit $13
Matt Black Spray paint Left over from car touch up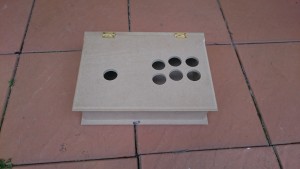 I gave it a test run on Street Fighter 2. I suck at the game but it worked well, just needs some anti slip feet, rubber or foam, to keep it stable.